The plate heat exchanger (PHE) is a specialized design well suited to transferring heat between medium- and low-pressure fluids. Welded, semi-welded and brazed heat exchangers are used for heat exchange between high-pressure fluids or where a more compact product is required. In place of a pipe passing through a chamber, there are instead two alternating chambers, usually thin in depth, separated at their largest surface by a corrugated metal plate. The plates used in a plate and frame heat exchanger are obtained by one piece pressing of metal plates. Stainless steel is a commonly used metal for the plates because of its ability to withstand high temperatures, its strength, and its corrosion resistance. The plates are often spaced by rubber sealing gaskets which are cemented into a section around the edge of the plates. The plates are pressed to form troughs at right angles to the direction of flow of the liquid which runs through the channels in the heat exchanger. These troughs are arranged so that they interlink with the other plates which forms the channel with gaps of 1.3–1.5 mm between the plates.
The plates produce an extremely large surface area, which allows for the fastest possible transfer. Making each chamber thin ensures that the majority of the volume of the liquid contacts the plate, again aiding exchange. The troughs also create and maintain a turbulent flow in the liquid to maximize heat transfer in the exchanger. A high degree of turbulence can be obtained at low flow rates and high heat transfer coefficient can then be achieved.
A plate heat exchanger consists of a series of thin, corrugated plates which are mentioned above. These plates are gasketed, welded or brazed together depending on the application of the heat exchanger. The plates are compressed together in a rigid frame to form an arrangement of parallel flow channels with alternating hot and cold fluids.
As compared to shell and tube heat exchangers, the temperature approach in a plate heat exchangers may be as low as 1 °C whereas shell and tube heat exchangers require an approach of 5 °C or more. For the same amount of heat exchanged, the size of the plate heat exchanger is smaller, because of the large heat transfer area afforded by the plates (the large area through which heat can travel). Increase and reduction of the heat transfer area is simple in a plate heat-exchanger, through the addition or removal of plates from the stack.
In addition to our ability to provide heat exchangers for new applications we also have a full service repair shop that offers everything from cleaning and testing to replacement gaskets, plates and plate packs for virtually any manufacturers unit.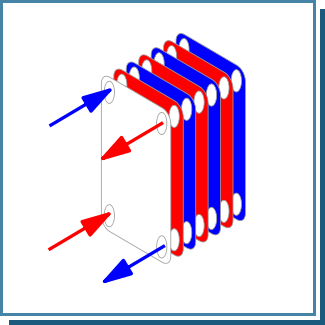 Features
Gasketed plate style heat exchanger
Oil to water applications
High performance
Can be disassembled for internal cleaning
Plates can be added /removed to accommodate change in performance
Medium to very high flows
All plates are stainless steel
All hardware is zinc coated
PED / ASME / CRN codings available
Special plate material options: Titanium/Hastelloy / MO-254 / Nickel / 904L
Special gasket material options: High Temp NBR (150 C) / EPDM / FPM / PTFE (Teflon®)
Plate profile options: a deep gap, lower pressure drop plates for high viscosity fluids (Type S). Select models also offer a shallower gap, higher pressure drop & performance plates (Type X).
Fluid Compatibility
Petroleum/mineral oils
Oil/water emulsion
Water/ethylene glycol
Standard Materials
Internal

Plates Stainless Steel
Gaskets Nbr-Clip
Tie Rods Zinc Plated Steel

External Frame

Connections Carbon Steel, Stainless Steel
Frame Plate (Front) Carbon Steel
Pressure Plate (Rear) Carbon Steel
Carry Bar (Top) Zinc Coated Steel
Sainless Steel
Guide Bar (Bottom) Zinc Coated Steel, Stainless Steel
Column (if applicable) Carbon Steel
Aluminum
Mounting Feet Carbon Steel
Masteners Zinc Plated Steel
Other materials are available. Please call for details.
Standard Ratings Hot & Cold Side
Design Pressure 150 psi (10.5 BAR)
Test Pressure 195 psi (13.4 BAR)
Design Temperature 230°F (110°C)
Minimum Working Temperature 32°F (0°C)